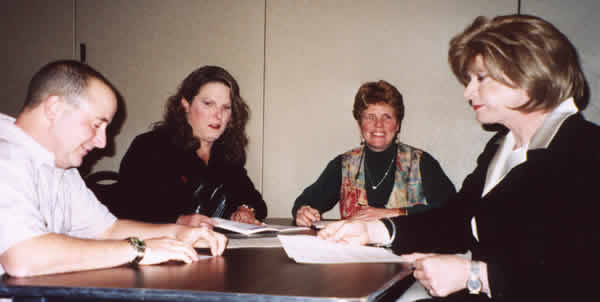 Status of this site
The Transgender at Work web site was founded in 1997. It is no longer being actively maintained, and is out of date. It is being kept up as a resource and for historical purposes.
Transgender at Work
The Transgender at Work (TAW) project is a focal point for addressing workplace issues for the transgender. TAW provides resources for innovative employers who want to set their company employment policies to help their transgender employees to be at their most productive, without spending energy hiding an important part of themselves and pretending to be something they are not.
Transgender at Work (TAW) focuses on voluntary cooperation between employers and employees. While civil rights laws are important to understand, and provide useful examples of language, advocacy for laws is outside the scope of TAW.
Is it Ethical for a Health Insurance Plan to exclude Transgender Health Care? In 2008, the American Medical Assocation passed a resolution opposing transgender exclusions in medical policies. Read their resolution.
Is Sex Reassignment Surgery Medically Necessary? On 7/17/2008, the World Professional Assocation for Transgender Health issued an important clarification. Read their statement.
How much would it cost my company to include Transgender Health Benefits on our benefits plan? What is the intrinsic prevalence of transsexualism? Read the latest research papers, presented at the 2008 Out & Equal Workplace Summit conference.
3/31/2006: The City of San Francisco announces four years of health benefits claim data, showing their costs for full coverage of transgender health benefits to be negligible. Read their conclusions.
Need help writing an HR policy for supportive Gender Transition Guidelines? See our Policy Resource List
---

This page Copyright (c) 2005 by Transgender at Work. All rights reserved.